How to Buy Pearls
A string of pearls around your neck is simply the most elegant way to look classy, but when it comes to selecting your pearls, the process can be challenging. With a vast variety of pearls available in the market, one might get overwhelmed. Pearls come in different shapes, sizes and colours which can get confusing. This guide with its simplified approach regarding "How to buy pearls" will hopefully help you make the right choice

Natural VS Cultured Pearls


Contrary to popular belief, both natural and cultured pearls are real gems. People often assume that cultured pearls are not real, which is not at all true, however, a natural pearl obviously holds more value in terms of money due to its rare nature.

Natural Pearls

Natural pearls are undoubtedly the most magnificent gems to ever grace the world, natural pearls have an unmistakable aura. With that being said, these pearls are pure and organic with no need for human intervention. Natural pearls are rare as their growth requires the natural process to take place on its own.

Cultured Pearls

Most pearls available in the market are cultured pearls. These pearls are cultured with a human intervention which is done by irritating the natural mechanism, causing it to produce natural pearls. Due to this technique pearls are made easily accessible to support consumers demand. Cultured pearls have different types, each with its uniqueness and value. More-over cultured pearls are sourced in a much more sustainable manner. 

Types Of Cultured Pearls

Cultured pearls come in four magnificently beautiful varieties. When you begin your search for pearls, don't get lured by the word natural pearls because this will have a hefty price tag and are very difficult to find. However cultured pearls are easily available and can compete with natural pearls in terms of quality, price, availability and longevity any day.

1. Akoya Pearls

The image that forms in your head when someone says pearls is likely to be of Akoya Pearls. Akoya pearls are known for their brilliant white sheen and lustre, Akoya pearls are quintessential and classic of all. The wonderful lustre on Akoya pearls solely depends upon the harvest time. These pearls usually need nearly two years to form a thick nacre which brings the lustre for which they`re famous. However, many farmers harvest these pearls in a few months which shortens the longevity of Akoya Pearls and they lose their lustrous sheen in a couple of years.



Shape

Apart from their lustrous gleam, Akoya pearls are also known for their perfectly round and symmetrical shape. Akoya Pearls are often called "Eight Way Rollers" as their perfect round shape allows them to roll in all directions.

• Color

The mirror-like white sheen on Akoya pearls gives them a primary colour that is typically tinged with an overtone.

Pearl Overtones:

The secondary colour that appears as a tinge on the main body of a pearl defines the overtone of a pearl.

Akoya pearls typically have three overtones, rose, creme and silver. Other overtones can be blue, silvery blue and extremely rare in existence, shimmering shade of gold and yellow.

Note:

The undeniable aura of these pearls remains unbeatable on any skin tone so you can rest assured that any colour of Akoya pearls will look magnificent on your skin tone.


• Size
These pearls vary in size with a typical range of 6mm to 9.5mm. The most common size is 7-7.5mm and 8-8.5mm is the next in line in terms of popularity.

Hanadama Pearls

Hanadama pearls are the most beautiful and finest amongst Akoya Pearls. Also, known as "Flower Pearls", these pearls have a mesmerizing shade of pink on their surface. The two key features making Hanadama Pearls the best Akoya Pearls are lustre and origin.



2. Freshwater Pearls

Freshwater Pearls are the most diverse and fast-evolving pearls of all. With a wide variety of shapes, sizes and colours to offer, these pearls hit all the right notes of whimsical. Freshwater Pearls are not as valuable as Akoya Pearls but are truer to nature as they grow without the bead and are 100% nacre. Unlike Akoya Pearls, freshwater shells can grow 12 pearls at a time hence don't possess as much value as Akoya Pearls.

• Shape
Nearly identical to Akoya Pearls, Freshwater Pearls have an almost round shape and a crystalline structure. They come in other fanciful shapes but the key to buying Freshwater Pearl is the rounder the better.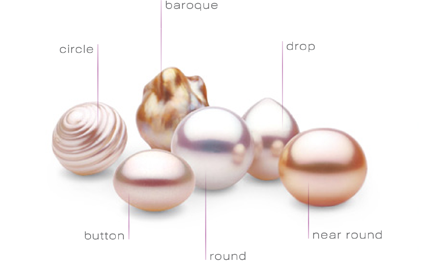 Colour
Freshwater Pearl exists in an array of pastel colours and portrays a brilliant overtone of every shade of the rainbow. However, keep in mind that the different overtones on Freshwater pearls do not temper the lustre and richness at all. The pastel hue of Freshwater pearl is all-natural without any human intervention.


• Size
The size of Freshwater Pearl varies from a tiny 1m or 2mm bead to 15mm in diameter. Even a half mm larger Freshwater Pearl can bring a noticeable difference in it just a lustre and appearance( more rounder).

A strand of a freshwater pearl is the best option and a perfect start for a first purchase or a young lady.
Tahitian Pearl

Harvested from black-lipped oysters, Tahitian Pearls have an exotic black colour with an iridescent gleam that speaks of their natural growth. Cultured in the coastal water of French Polynesia, Tahitian Pearl are more valuable than black Akoya and Freshwater Pearls as they have a natural black glossy finsh unlike the other two which are dyed into a black shade.

• Shape
Since Tahitian Pearls are bead nucleated so many of them are round however they appear in drops, buttons and baroque pearls but round Tahitian Pearls are obviously the best catch.

• Colour

Tahitian Pearls have both light and dark glossy metallic bodies with a lighter black shade more easily available than darker, hence holding lesser value in terms of money. Apart from the black hue, these Pearls display a wide range of colour spectrum from creamy white, regal green, grey, iridescent peacockto deep black.

• Size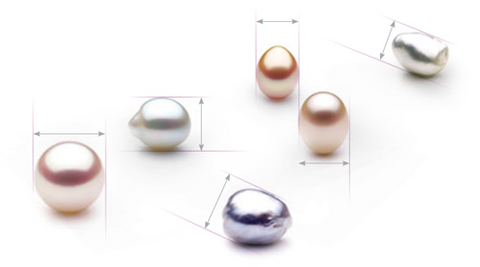 Tahitian Pearls are 8mm to 15mm in size making them one of the largest pearls with larger black pearls than 15 mm. are rare.

4. South Sea Pearls


The largest and the most valuable pearl all over the market today are South Sea Pearls. The pearls are roughly the size of the marble. now you must think about what the oyster size would be, the size of an American Dinner Plate, yes! The magnetic pull of South Sea Pearls is hard to miss. These statement-making pearls attract everyone but in everyone's reach as they are extremely expensive.

• Shape

Each harvest of South Sea pearls only cultures 10-30% of the round beads which takes them higher on the value scale. These pearls also exist in browse and drop shapes and are equally loved by jewellers.

• Colour

South Sea Pearls are cultured in a silver lipped oyster and a gold lipped oyster which give them two individual silver and gold colours respectively.

• Size
These marble-sized pearls can range between 8mm to 17mm with the largest and the rarest find of 20mm.


Pearl Grading

When it comes to grading the pearls, the process is much more complicated than grading diamonds. Pearl grading is based on seven main factors which Include size, lustre, origin, shape, nacre, surface and matching.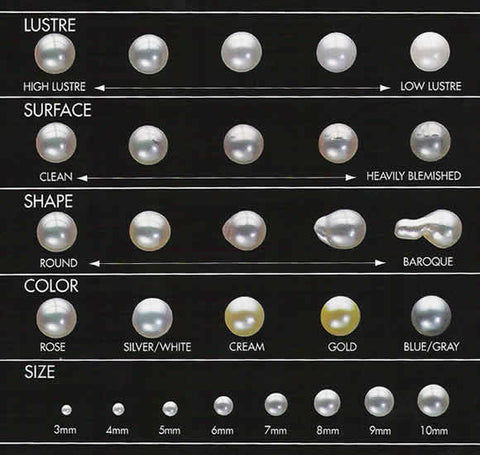 But, pearl grading doesn't follow any strict standards, the process is completely subjective to the criteria different companies and farmers use to grade their pearls. The typical grading you would see everywhere would be A to AAAA which represents the mediocre to the best in the market respectively.
Different jewellers and pearl farmers would grade the same strand differently, an evaluator might grade it well while the other might give it a low rank. The best way to filter the market is to find a reputable jewellery shop or a reputable online jewellery store. This will help you make a good decision. As you will be well aware of the quality of the pearls and the perceptions and reviews of the people who have owned them.
Unparalleled Quality.
Hand-selected and individually inspected pearls ensure our highest quality standards.
Fair & Transparent Pricing.
Jewelry up to 80% below traditional retail prices. Luxury without the markup.
Buy Now Pay Later With Klarna.
Enjoy 4-installment interests free.
Free Shipping Worldwide.
On orders over $49 USD
BECOME A HOUSE MEMEBER
Drop your email below and we'll send you members-only discount.