Pearl Colors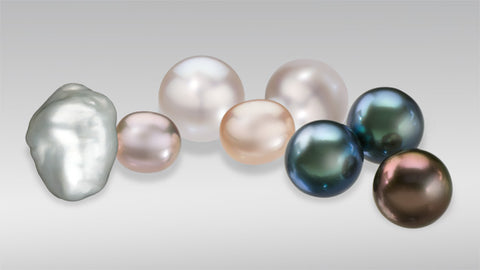 Pearls are available in various shades and colors, from purple, green, blue, black, pink, cream, white, and even multicolor overtones. Several factors are responsible for a pearl's color, yet it's mostly up to chance. Black-lipped oysters don't typically produce a white pearl.
Freshwater Pearls
One thing about freshwater pearls that always puts them in the market for huge demand is the vast variety of colors, shapes, and sizes they come in. It's a little confusing to observe the colors due to the interference of shades and reflection. A basic trick to distinguish the two is by observing the base color at the edges while the shade appears over the center of the pearl. The pearls come in white, pink, grey, blue, yellow, cream, etc with highly popular shades including lavender, white, and apricot. 
Akoya Pearls
Colors: Choosing the colors depends on your preference, however; Akoya pearls are popular for their uniquely white shades. The rose, silver, and cream overtones form a matchless combination that is rarely found in any other pearl. Therefore, we recommend their white shades more.
Tahitian Pearls
You must have known that Tahitian pearls are black but have some other undertones. The combination of colors makes them unique and beautiful. Do you know what are other colors make this even more stunning?
Let's find out the undertones that a pretty common in this kind of Black Pearl.
Classic peacock
The green shade of the Classic peacock shade is absolutely popular in this kind of Black Pearl. It is not only a mix of green colors but also has a hint of gold and Rose color. It is an absolutely beautiful hint that makes the overall look of the parallel even better. The green color is also very common. It is more like the emerald or the olive green color that gives a beautiful shade.
Blue and green combination
A combination of blue and green are the other two colors that are highly dominant and are common in this Black Pearl. The blue shades combined with the shade of black look tremendous. With the little reflection of light, the colors pop out even more. The aquamarine color that is a combination of blue and green, is also highly visible in this black pearl.
Dark blue color
Most of the time, you'll also find out that the Tahitian pearls have a dark blue undertone making it look like a midnight blue color pearl combined with a black tone.
Rose and Cherry tones
The two other colors that are highly common and can easily be found in these black pearls are the rose and Cherry undertones. The beautiful shade of eggplant purple and Rose make your Black Pearl even more beautiful.
Some other shades
Some of the Other less common Shades include silver and pistachio. Bronze shade can also be seen in some Tahitian pearls, but it is not so common.
South Sea Pearl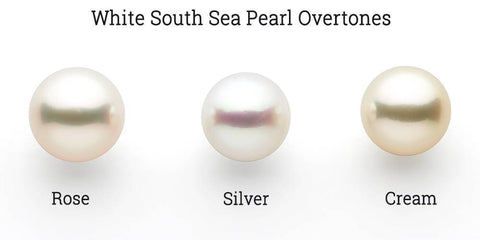 There are two dominant types of Pinctada Maxima: the White Lipped oyster, and the Gold Lipped Oyster. The White-lipped oyster produces a South Sea pearl with a silver and white hue as well as that with blue overtones. The Gold Lipped Pinctada Maxima produces champagne-colored and deeper gold-colored varieties of the South Sea pearl. After they are harvested, all South Sea pearls are washed and cleaned since their natural color is quite rich itself. In many events, the Golden South Sea pearl is more expensive than the White South Sea pearl, as it is said to look more dramatic.
Unparalleled Quality.
Hand-selected and individually inspected pearls ensure our highest quality standards.
Fair & Transparent Pricing.
Jewelry up to 80% below traditional retail prices. Luxury without the markup.
Buy Now Pay Later With Klarna.
Enjoy 4-installment interests free.
Free Shipping Worldwide.
On orders over $49 USD
BECOME A HOUSE MEMEBER
Drop your email below and we'll send you members-only discount.