Make a Statement on International Women's Day 2023 With Power Pearls
Posted by KIM CHUA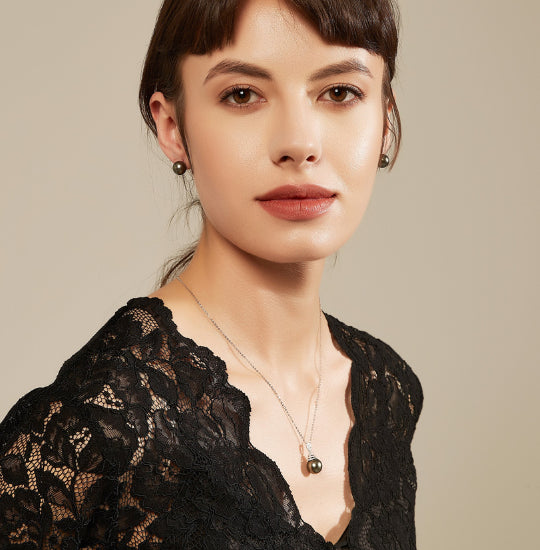 It's International Women's Day 2023 and you want to make a statement. What better way to do that than with a powerful piece of jewelry? I'm talking about pearls—the classic and timeless symbol of beauty, femininity, strength, and power.
From Coco Chanel's iconic pearl-encrusted necklaces to Kaia Gerber's modern take on the look, pearls have been part of fashion history for centuries. On International Women's Day, there's no better way to express your solidarity with other inspirational women than wearing power pearls. After all, they are the perfect reflection of female empowerment—and true fashion statement!
In this article, we'll discuss the rich history of pearls in fashion and explore why so many empowered women choose to wear them. Plus, we'll give you some tips for choosing the perfect power pearl jewelry for yourself or someone special in recognition of this important day!
Why Power Pearls Are the Best Choice for International Women's Day 2023
International Women's Day 2023 is fast approaching, and it's time to make a statement with your look. But what should you choose? If you're looking for a way to show your personal style while also paying homage to female empowerment, the answer is easy: Power Pearls!
Pearls have long been a symbol of elegance and beauty. They have been seen throughout history on the likes of Empress Dowager Cixi and Queen Elizabeth I, two powerful women who made a lasting mark on their respective eras.
In recent years, pearls have been making a comeback in fashion, but as more than just an accessory. Women are now wearing them as powerful symbols of female strength and resilience. Whether it's giving pearls a new twist or bringing back classic pieces from the past, these modern-day statement pieces enable every woman to demonstrate her own unique style—while also standing in solidarity with her fellow womankind.
So this International Women's Day, make sure you don't miss out on one of the hottest jewelry trends: Power Pearls! As an outward symbol of your inner strength, these beautiful and bold pieces are the perfect way to make a lasting impression—all while celebrating women everywhere.
The History and Fame of Pearls in Fashion
Pearls have been around for centuries, adoring the powerful and iconic women of history. From royal figures such as Elizabeth I and Marie Antoinette, to screen sirens such as Audrey Hepburn and Elizabeth Taylor, pearls are synonymous with timeless elegance.
Today's modern-day power pearls embody that same classic glamor but with a fresh, contemporary look. These larger-than-life statement pieces are perfect for standing out from the crowd on International Women's Day 2023. Pearls have come once again to symbolize female strength and poise—for example, Michelle Obama's classic strands of pearls have become synonymous with grace and dignity.
If you want to make a lasting statement of female empowerment on International Women's Day 2023, power pearls are the way to go. They marry together all the right elements—glamor, femininity and a modern edge—while still paying homage to their place in fashion history. Power pearls will turn heads while you wear them with your head held high!
How Power Pearls Can Make a Statement
International Women's Day 2023 is just around the corner and there is no better way to celebrate than with a set of power pearls.
A timeless classic, pearls have been in fashion for centuries and are closely associated with female power - from Coco Chanel to Michelle Obama. Power Pearls send a powerful message of strength and confidence, ideal for inspirational women who want to make a statement on International Women's Day.
Wearing power pearls provides the perfect opportunity for expressing yourself on this special day. Whether you choose to go all-out with an extravagant choker or subtle earrings, your choice will show everyone that you stand for equity, love and feminine empowerment. Show your appreciation for trailblazers and join them in making a statement by wearing power pearl jewelry on International Women's Day 2023!
Celebrate Female Empowerment Through Jewelry
This International Women's Day, make a statement with Power Pearls. From the 19th century feminist to modern-day role models, these iconic gems have been making waves in the fashion world.
With their unique beauty and strength, pearls are the perfect symbol of female empowerment. They remind us that beauty and power come from within and that we can use it to create positive change in the world.
Inspirational women, such as Oprah Winfrey, Michelle Obama and Ava DuVernay, have all embraced pearls in their own unique way - whether as a part of their wardrobe or as an integral part of their message.
Power Pearls are sure to bring out your inner strength and stand as a reminder that you are a force to be reckoned with. From rings to necklaces and earrings, wear your pearls with pride this Women's Day and join the celebration of female empowerment!
Reasons Why Inspirational Women Choose Pearls
For centuries pearls have been associated with power, beauty, and legitimacy. This is why they are the perfect choice to make a statement on International Women's Day 2021. When you wear power pearls, you're embracing equity, loving yourself, and inspiring other women.
So why do inspirational women all over the world choose pearls? Here are some reasons:
### Timelessness and Versatility
Pearls come in a variety of colors and sizes and can be worn with any outfit — from casual jeans to formal gowns. Pearls are also timeless — they never go out of style.
### Symbolism of Strength and Beauty
Pearls have long been associated with feminine strength and beauty in fashion history. From ancient Greek goddesses to modern day female leaders, pearls have been a symbol of elegance, sophistication, and power.
### Symbol of Creativity
Pearls are also seen as a representation of creativity in women. Creative expression is an important part of female empowerment: it allows us to express our ideas, share our values, and make a statement about who we are. That's why many inspirational women choose to wear pearls as a symbol of their creativity.
Tips to Choose the Right Power Pearl for International Women's Day 2023
On International Women's Day 2023, wearing power pearls will be the ultimate way to make a statement. But how do you know which ones to choose? Here are a few tips to help you select the perfect piece of jewelry:
### Get Inspiration From Inspirational Women
Take your style cues from some of the most powerful women in history. From Jackie Kennedy's three-strand pearl necklace to Audrey Hepburn's signature single-strand look, you can draw inspiration from iconic women who have used pearls to make a statement of strength and beauty.
### Know Your Colors
Pearls come in a wide array of colors and sizes, from subtle pinks to bright blues. Do some research and find the one that speaks to your personal style and matches your wardrobe for the special day.
### Match Your Power Pearl with a Meaningful Piece of Jewelry
A power pearl can be complemented by a meaningful necklace, bracelet or other piece of jewelry that carries special significance for your look and message. Consider pairing it with another gemstone, or consider engraving it with an inspirational phrase or quote.
By following these tips, you'll be sure to stand out on International Women's Day 2023 with the perfect power pearl!
Conclusion
International Women's Day 2023 is an opportunity to make a powerful statement with pearls, reflecting the remarkable strength of women throughout history. Pearls represent a lifetime of learning and hard work, wisdom and optimism that are both timeless and timelessly inspiring. We can all show our support with special jewelry - power pearls - that embody the spirit of the courageous women we all seek to honor. Choose power pearls to celebrate International Women's Day 2023, and keep inspiring each other to strive for true equity and empowerment for women everywhere.