30th Wedding Anniversary Gifts: The Perfect Pearl Present Ideas for Her
Posted by KIM CHUA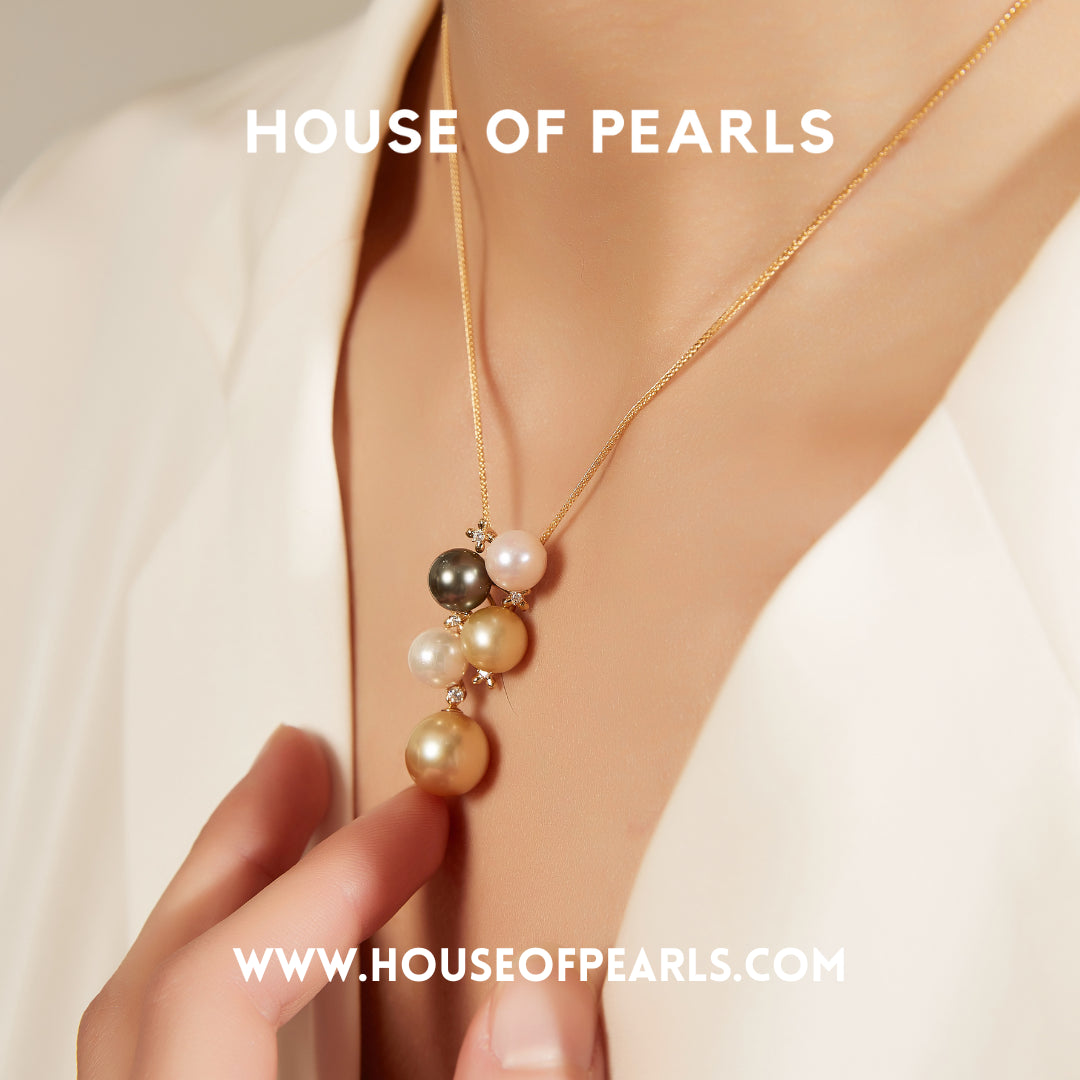 Congratulations! You have made it to your 30th wedding anniversary. What a wonderful achievement, and you certainly deserve a celebration. But what do you get the one you love to commemorate this milestone? It's no secret that pearls make the perfect gift for this momentous occasion—the natural beauty of the pearl reflects the lasting beauty of your love.
At House of Pearls, it has always been our mission to provide our customers with access to the highest quality pearls from around the world. That's why we've decided to put together a collection of 30th wedding anniversary gifts that are both beautiful and meaningful. Whether you're looking for a classic pearl necklace or something more creative, like pearl cufflinks or a pearl-encrusted jewelry box, we've got you covered. So go ahead and explore our selection of 30th wedding anniversary gifts—we guarantee there is something special here for every couple.
The Value of 30th Pearl Wedding Anniversaries
That's right, it's a big one—your 30th wedding anniversary! Your parents or spouse have been together for three decades, and you have the honor of celebrating with them. This is the perfect opportunity to show your beloved ones just how much you care and appreciate them with a memorable gift to commemorate the milestone.
Choosing a pearl wedding anniversary gift is not only symbolic but also incredibly special too. Legend has it that when two people are happily married for 30 years, they become like pearls: precious, resilient and beautiful. A pearl-inspired gift is an elegant way to honor your loved one's commitment and dedication.
Pearls come in a variety of sizes, shapes and colors for you to choose from whether you're looking for something subtle or something more statement-making. You can opt for classic jewelry pieces such as pendants or earrings, or add a touch of glamor with pearl necklace sets, bracelets and rings. Or even better, go bold with gorgeous multi-strand necklaces and chunky rings—classic jewelry pieces that will never go out of style!
Best 30th Anniversary Gift Ideas for Her
Your 30th wedding anniversary is a momentous occasion, and there's no better way to show your wife just how much you care than with a beautiful pearl gift. As the traditional gemstone for 30 years of marriage, pearls are an exquisite and special way to mark the occasion.
Here are some ideas of pearl gifts that might be perfect for celebrating the special milestone:
* A necklace featuring a single genuine white, pink or golden pearl is a classic choice that your wife can wear for any occasion.
* A set of matching earrings with studs or drops will stand out in any jewelry collection.
* Get creative with a personalized piece like a photo locket or charm bracelet featuring freshwater pearls in different shapes and sizes.
* You can also give your wife an elegant bracelet with several strands and various shapes of pearls to add some flair to her ensemble.
Whether you're looking for something classic and timeless or modern and stylish, there is no better way to commemorate your 30th wedding anniversary than with the perfect pearl present.
Choosing the Best Pearls for the Occasion
Your 30th anniversary is special, and the right pearls will make it even more memorable. To make sure you pick the perfect pearls for the occasion, consider the following factors:
### Size and Grade
When it comes to pearls, size and grade matter. The larger the pearl and higher its grade, the higher its value. However, if you're looking for something more subtle or affordable, a freshwater pearl of lesser grade can still look beautiful.
### Color
Pearls come in a range of colors from white to black to gold. Choosing the one that best suits your taste or that of your spouse can help make sure your anniversary gift is perfect.
### Shape
Pearls come in various shapes including round, semi-round, off-round and baroque. Round shaped pearls are considered more desirable than their counterparts since they are more symmetrical. But whichever style you choose should depend on what speaks to your partner's individual taste.
Meaningful Gifts and Decor Ideas for Pearl Wedding Anniversaries
When it comes to celebrating a 30th wedding anniversary, pearls are the way to go. Not only are they a timeless classic, they also symbolize love, commitment, and dedication—all of which represent the strength of your relationship.
The beauty of pearls lies in the fact that they can be incorporated into so many different gift and decor options. Here are a few meaningful ideas:
#### Jewelry & Accessories
The traditional pearl necklace is an absolute classic. Or if you're looking for something unique, consider earrings or bracelets with an array of lustrous colors that will add a little something extra to her wardrobe. Plus, she can wear them around friends and family as a reminder of your special day.
#### Home Decorations
Whether it's a photo frame or vase adorned with delicate pearls or something more bold like wall art, pearl decorations can bring the beauty of nature into your home. If you want to go above and beyond for this milestone anniversary gift for her, try adding some intricate pearl designs around your living space—it's sure to be a conversation starter.
Celebrating With Community and Special Treats
While it's important to search for the perfect present, there are plenty of other unique ways to celebrate your 30th wedding anniversary.
### Community Celebrations
Bring your family, friends and community together to commemorate this milestone in your relationship. Host a gathering where you can share the joy of being married for 30 years, and reminisce with those who have been there from the beginning.
### Special Treats
Surprise your partner with something unexpected like a romantic dinner for two or a luxurious spa day. Or you can indulge in a special treat for yourself that reminds you of your wedding day, like personalized jewelry or vintage accessories. Lastly, consider a custom gift box filled with pearl-inspired items or limited edition pearls that you can use to commemorate the occasion.
FAQs on Celebrating a 30th Pearl Wedding Anniversary
Your parents, or you and your spouse, have reached an incredible milestone—thirty years together. Congrats! You may be feeling the pressure to find the perfect pearl present for their big day? We've got you covered.
Here are some of the most common questions we get asked about celebrating a 30th pearl wedding anniversary:
1. What is the best way to celebrate a 30th wedding anniversary?
The best way to commemorate this milestone is to take some time off and reignite the love you've been nurturing over three amazing decades. Take a few days away, enjoy dinner out with each other - and of course, don't forget your pearl jewelry gifts!
2. How do I choose a 30th wedding anniversary gift?
Choosing gifts for any special occasion should be special - especially when it's something as special as a 30-year marriage milestone. While jewelry is always a classic gift choice, consider something unexpected and unique like an agate silver statement necklace or custom-engraved pearls for even more sentimental value.
3. What if my spouse doesn't wear jewelry?
No problem at all! Have you considered getting them something from our selection of non-jewelry items like a personalized photo holder made from natural seaglass or handcrafted driftwood photo frames?
Conclusion
A 30th wedding anniversary is a special milestone, and if you're looking to make it extra special, look no further than the gift of pearls. Pearls can be elegant and timeless, or chic and modern, depending on your preference.
When deciding on the perfect pearl present, it's important to consider both tradition and personal style. Remember, it's not just about the gift, but also the sentiment behind it. Whether you choose a classic pearl necklace or a timeless strand of pearls, the emotions you have put into the gift will always be remembered.
We at House of Pearls are happy to help you find the perfect pearl present to commemorate that special milestone. With a wide range of beautiful pearls to choose from, you'll find the perfect pearl to show your loved one how much you care about them.