Get in on the Trend: Why Men's Pearl Jewelry Is Here to Stay
Posted by KIM CHUA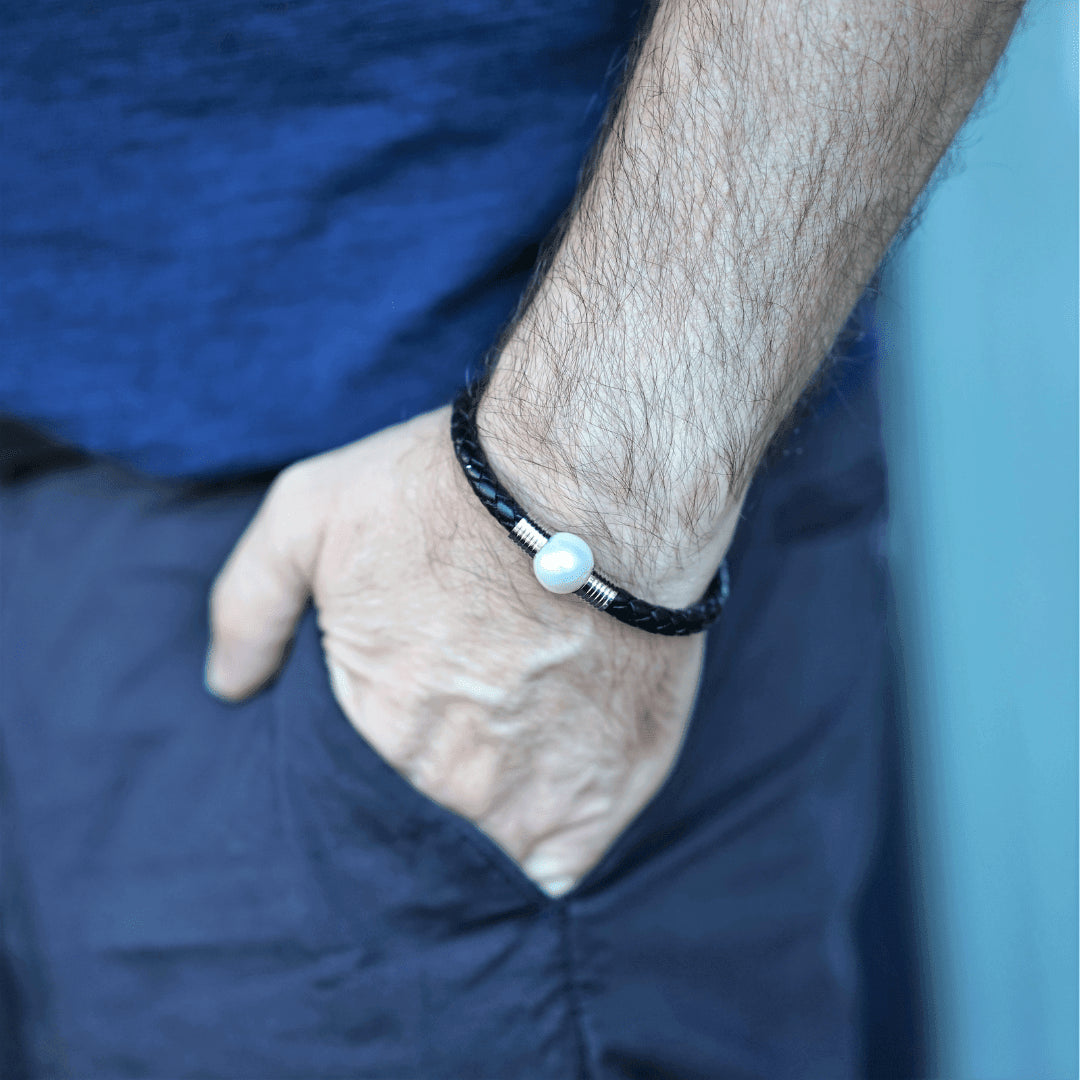 The days of pearl jewelry being saved only for the ladies are behind us. Men's pearl jewelry is becoming increasingly popular and it's not hard to see why. Whether you're looking for the perfect gift for a special man in your life, or you're a man who's keen to get in on the trend, this article will tell you just why men's pearl jewelry is here to stay.
Pearls are highly sought-after for their timeless beauty and versatility; they can be used to give a subtle sparkle to an everyday outfit or as an elegant addition to formalwear. What's more, pearls come in many different varieties and colors, so there's sure to be something that fits any style. With men's pearl jewelry, anyone can enjoy the timeless beauty of these magnificent gems.
Whether you're seeking gifts for him, an anniversary or birthday present, or just looking for timeless pieces of jewelry yourself, House of Pearls shares everything you need to know about men's pearl jewelry in this article. Read on to find out why you need to get in on this trend right now!
The Rich History Behind Mens Pearl Jewelry
Mens pearl jewelry has a rich and deep history, dating back to Ancient Greece and even earlier. Wearing pearls was considered special and elegant, as they were connected to the moon and its cycles. In Ancient Greece, wearing pearls was also linked to power and status in society.
Throughout the ages, mens pearl jewelry has been used for various purposes and celebrated for centuries in different forms — from natural freshwater pearls to cultivated salt water pearls. In the Middle East, the pearl necklace was a popular gift of choice for men during special events such as weddings or anniversaries. In Japan and China, mens pearl jewelry is also seen as a symbol of power, wealth and class.
Today, mens pearl jewelry has been reimagined through technological advancements that allow us to create unique pieces that reflect each individual's style — from a subtle take with a single stud earring piece to an eclectic look with multiple stacked necklaces. From classic details like gemstones or diamonds paired with pearls to boho-chic adornments such as leather accents on bracelets or anklets, this trend has something for everyone!
Styles of Men's Pearl Jewelry
Men's pearl jewelry is taking off, and for good reason. It's easy to find something just right for any man's individual style—from classic and timeless to modern and bohemian.
Here are some of your options:
* Classic – For the more traditional gentlemen, a pair of classic pearl stud earrings or a simple white pearl necklace may be just the accessory he needs to spruce up his wardrobe.
* Modern – For men who love contemporary design and luxury accents, a black South Sea or Tahitian necklace makes a bold statement. Or, if he prefers something subtle yet still distinct, look for Akoya pearls in warm shades of gold or silver.
* Bohemian – Men looking for a more relaxed vibe will appreciate organic pieces like freshwater pearls with rough edges or keshi earrings with irregular shapes. Mixing metals like rose gold or yellow gold add even more personality to these looks.
No matter the man's style, you can be sure that pearl jewelry is here to stay!
Different Pearls Used in Men's Jewelry
Men's pearl jewelry has come a long way since its traditional association with bling, designer suits and special occasions. Nowadays, stylish men are experimenting with an exciting array of pearl jewelry pieces.
Pearls come in all shapes, sizes and colors - and there is something to suit all styles. The most popular types of pearls used in men's jewelry are:
### Akoya Pearls
These saltwater pearls are known for their lustrous shine and beautiful round shape. They are often seen as pendants, earrings or cufflinks for a classic yet sophisticated look.
### Freshwater Pearls
Freshwater pearls come in all sorts of shapes, sizes and colors ranging from white to pink to even lavender! These smaller pearls offer the perfect touch of color to a modern look. They can be used as stud earrings or collars for an update on classic styling.
### Tahitian Pearls
Tahitian pearls have become a popular choice for men's jewelry thanks to their unique color range from deep black to dark green, gray and blue shades. They are perfect for creating statement pieces like bold necklaces or bracelets that will make any eye-catching ensemble stand out from the crowd!
Benefits of Investing in Mens Pearl Jewelry
Pearl jewelry is timeless and elegant, making it the perfect choice for any man who wants to make a unique fashion statement. But there are more benefits to men investing in pearl jewelry.
### Versatility & Style
Pearl jewelry can be worn with casual wear or dressed up with a suit, giving men the option to seamlessly transition from day to night. By opting for pearls, men have a unique and stylish way of expressing their personality while still maintaining an air of sophistication and class.
### Financial Investing
Unlike many other items of luxury jewelry, pearls tend to hold their resale value - if taken care of properly, a piece of pearl jewelry can last for decades or even centuries. This makes pearl jewelry an excellent investment for those looking for something with lasting value.
### Investment in Health
Pearls are associated with many health benefits, including improving skin condition when worn directly against the skin, aiding digestion, and relieving stress and anxiety. Investing in pearl jewelry can give you more than just fashionable appeal - it can provide wonderful health benefits as well.
Care Tips for Mens Pearl Jewelry
When you invest in a piece of men's pearl jewelry, it's important to take proper care of it - especially considering the longevity and resilience that makes pearls so special. To ensure you get the most bang for your buck, follow these few simple steps:
- Make sure to keep your jewelry stored in a soft cloth bag or wrapped in tissue paper to protect it from dirt and dust.
- Avoid contact with chemicals such as hairspray, perfume, and body lotion. These can cause damages to the pearl surface.
- Clean pearls by using a soft damp cloth or by gently wiping them with a barely damp tissue using lukewarm water.
- If your mens pearl jewelry is particularly dirty, you can use mild soapy water but never use any harsh jewelry cleaning solutions or abrasives that may damage the delicate surface of the pearl.
- Finally, avoid wearing your pearls when doing activities like gardening, swimming, showering or clening as these will also damage them over time.
By following these easy steps for caring for your mens pearl jewelry, you will be able to enjoy them for many years to come!
Where to Find Quality Mens Pearl Jewelry
When it comes to men's pearl jewelry, finding the right piece can be a challenge if you don't know where to look. That's why you should always do your research before making a purchase. Here are a few key points to consider when searching for quality men's pearl jewelry:
### Reputation
Whether you decide to shop online or in store, make sure to take some time and read reviews about the store or vendor. Check for any customer complaints and read about their return policy and warranty options. Time spent researching now can save you time and money in the long run.
### Real Pearls
Another important factor to consider is the authenticity of the item. Be sure that the product advertised is made with real pearls, not just plastic or glass beads. You may also want to confirm that they are natural pearls, as opposed to lab-created ones. Authenticity will ensure that your purchase is of good quality and worth its cost.
### Variety
Finally, take your time browsing through different vendors and styles of men's pearl jewelry before you make a purchase decision - both online and in store! If you're looking for the perfect gift for him, check out House Of Pearls for a wide selection of quality pearl jewelry for men at affordable prices.
Conclusion
All in all, men's pearl jewelry is a great way to add a touch of sophistication and class to any look. From the ease of wearing pearl studs to the statement-making impact of pearls in necklaces, the unique combination of masculinity and myths makes these pieces truly timeless. Whether you're treating yourself or shopping for a gift, House of Pearls has an extensive selection of stylish and sophisticated men's pearl jewelry that you can be sure will charm for many years to come. Feel free to explore our website and find your perfect piece today!