Wedding Jewelry: Tips and Tricks for Finding the Perfect Pair of Modern Bridal Earrings
Posted by KIM CHUA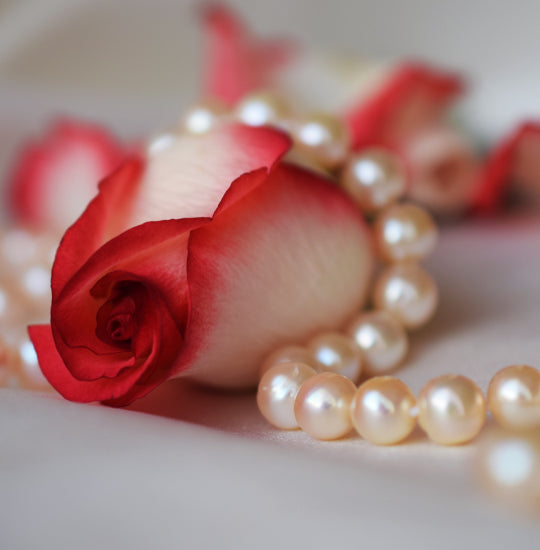 As a bride, you have a lot of decisions to make: the venue, the dress, the flowers...the list goes on and on. One thing that often gets overlooked is the jewelry. No matter if you're going for classic pearl earrings or something more modern and daring, choosing wedding jewelry is one of the most important parts of your look.
When you're shopping for wedding jewelry, it can be overwhelming to find the perfect piece that embodies your style. But never fear—we've got you covered! In this article, we'll cover all your questions so you can find the perfect pair of bridal earrings with confidence. We'll touch on everything from materials and price points to sizes and shapes. Whether it's helpful information about where to buy or creative tips for finding varieties of styles, we'll make sure that when you walk down the aisle, you're wearing your dream pair of modern bridal earring. So let's get started!
Introduction to Wedding Jewelry: Styles and Designs
Wedding jewelry is the perfect accessory to complement your bridal look. The right earrings can make or break your wedding day look, so it's important to choose the style that best suits your personality and dress. Whether you're looking for a classic pair of diamond studs, something elegant and modern, or something statement-worthy, there are a variety of options available on the market today.
When it comes to finding the perfect pair of modern bridal earrings, there are few key factors to consider. First, consider your overall desired look and style—are you looking for something traditional or more fashionable? Vintage-inspired pieces can be a unique touch for an old-world feel. Art deco designs and gold statement pieces are also lovely options for a modern bride.
Pearl wedding jewelry is also popular with many brides—it adds a hint of refined elegance that any bride-to-be can appreciate. Pearls come in many shapes and sizes—from small freshwater pearls to larger ones—and they can be set in yellow gold or white gold depending on your preference. Lastly, consider what type of metal best suits your style—white gold has always been popular in bridal jewelry due to its timeless appeal.
How to Choose the Right Bridal Earrings for Your Dress
When it comes to finding the perfect pair of bridal earrings, there are a few key things to keep in mind. First and foremost, you should consider the style of your wedding dress. That's because the overall look of your dress— whether it's a strapless or spaghetti strap, or something with long sleeves — will influence what type of earrings best complement your look. For instance, if you have an elegant strapless dress, then drop diamond earrings or a classic pearl studs can work beautifully. On the other hand, if you have an intricate long sleeve gown, opt for something simpler like diamond solitaire studs.
To narrow down your options even further, think about your jewelry budget and pick earrings that are within that range. Look for online wedding stores that offer high-quality bridal jewelry at discount prices so you can get the most bang for your buck. Additionally, take into consideration any jewelry that was passed down from family members or handed to you as an heirloom gift. These special pieces often come with sentimental value and can be integrated into any bridal ensemble in a very meaningful and timeless way.
Popular Bridal Earring Types: Studs, Drops, and More
When you think of bridal earrings, you likely think of classic studs and drops – but brides have so many more options! From charming pearl hoops to eye-catching chandeliers, there's something available for every taste. Let's explore some popular bridal earring types:
### Stud Earrings
Stud earrings are perfect for minimalist brides who want to keep their look timeless and elegant. These tiny earrings sit close to the ear lobe and come in a variety of shapes, colors, and styles.
### Drops Earrings
If you like a little bit more drama, then drop earrings could be the perfect choice. These will draw attention to your jawline, adding softness and romance to your look. Pearl drop earrings are especially stunning when paired with a timeless white dress.
### Hoops Earrings
Pearl hoops offer an easy way to enhance any bridal look with effortless elegance. The classic shape adds an unexpected touch of modernity that never gets old!
### Chandelier Earrings
Chandelier earrings are perfect for boho-chic brides who want a little bit of glitz and glamor on their special day. With cascading pearls or crystals, they'll be sure to turn heads!
Important Considerations When Choosing Wedding Jewelry
When you're searching for the perfect bridal earrings, it's important to consider a few key pieces of information. Firstly, decide what type of jewelry you are looking for and make sure it matches the overall style of your wedding. If you're wearing a more traditional wedding dress, for example, a classic pair of pearl earrings may be best. However, if you're wearing a more modern or eclectic gown, you may want to go with something edgier such as metallic spikes or geometric shapes.
Second, take into account how comfortable the earrings will be. If you'll be wearing them all day long during your wedding and reception, it's important to make sure they won't weigh down your ears or irritate your skin. Lastly, consider how much you're willing to spend on the earrings - this will help narrow down your choices and ensure that they fit into your budget.
At House Of Pearls, we understand that choosing the perfect bridal earrings can be daunting. That's why we offer an extensive collection of classic and modern styles to choose from at competitive prices so that you can find the perfect pair that meets all of your criteria!
Tips for Coordinating Jewelry With Hair, Makeup, and Accessories
Your wedding jewelry should always coordinate with the rest of your look. When choosing your bridal earrings, take into consideration the other elements of your outfit. Consider the color of your makeup, hairstyle, and accessories.
For instance, if you have chosen to wear a bold red lip or a smokey eye for your big day, opt for small diamond or pearl studs that won't take away from the drama of your look. Alternatively, if you have opted for a softer makeup and hairstyle, consider larger statement earrings such as a chandelier or modern teardrop design.
Think about how you want the earrings to stand out in photographs and how they will pair with the rest of your ensemble. Consider these tips when selecting your wedding day jewelry:
1. If wearing an updo hairstyle or wearing a veil, consider dangling earrings that draw attention to an updo or peep out from beneath a veil.
2. If wearing an off-the-shoulder gown, choose small studs or hoop earrings so they do not detract from the dress's neckline detail.
3. Avoid layers of bold jewelry and opt for one statement piece instead – whether it's a necklace, bracelet or pair of earrings – so each piece remains distinct in photos and does not compete with one another for attention.
4. Select wedding jewelry that can double up for other occasions such as bridesmaid gifts or anniversaries – pearls are always timeless and classic choices!
Where to Shop for the Perfect Drop Earrings for Your Wedding
When it comes to finding the perfect pair of drop earrings for your wedding, the search can be overwhelming! Fortunately, there are a few reliable sources that should make your shopping journey a little easier.
### Online Retailers
Thanks to the internet, you can find almost anything online! From large online retailers like House Of Pearls, you can purchase bridal earrings online with ease. The best part? You won't have to leave the comfort of your home.
### Local Jewelry Stores
For those who want a more personal experience, shopping in-store at a local jewelry store may be the best option. This gives you the opportunity to look at and try on thousands of different styles—from traditional styles with cultured pearls and diamonds to unique pieces from up-and-coming designers. Plus, having an expert on hand means you'll have access to trustworthy advice about quality and pricing.
No matter where you choose to shop for your wedding drop earrings, make sure it is from a reputable source. At House of Pearls, we are committed to providing our customers with only the highest-quality pearls backed by our 100% satisfaction guarantee.
Conclusion
All in all, there's no one-size-fits all answer when it comes to finding the perfect pair of modern bridal earrings. Yours should reflect your style and personality, and be versatile enough for all the other wedding-related events, from rehearsal dinners to post-wedding brunches and beyond. With so many options and styles out there, it can be difficult to pick the right one. That's where House of Pearls comes in. We have a wide selection of pearl earrings that are sure to make you stand out on your big day. Whether you're looking for an elegant pair of drop earrings or something more unique and modern, we have something that is sure to make your day unforgettable. Shop our selection today and find the perfect pair of pearl earrings for your wedding.