Show Mom How Much You Appreciate Her With an Unforgettable Pearl Jewelry Gift
Posted by KIM CHUA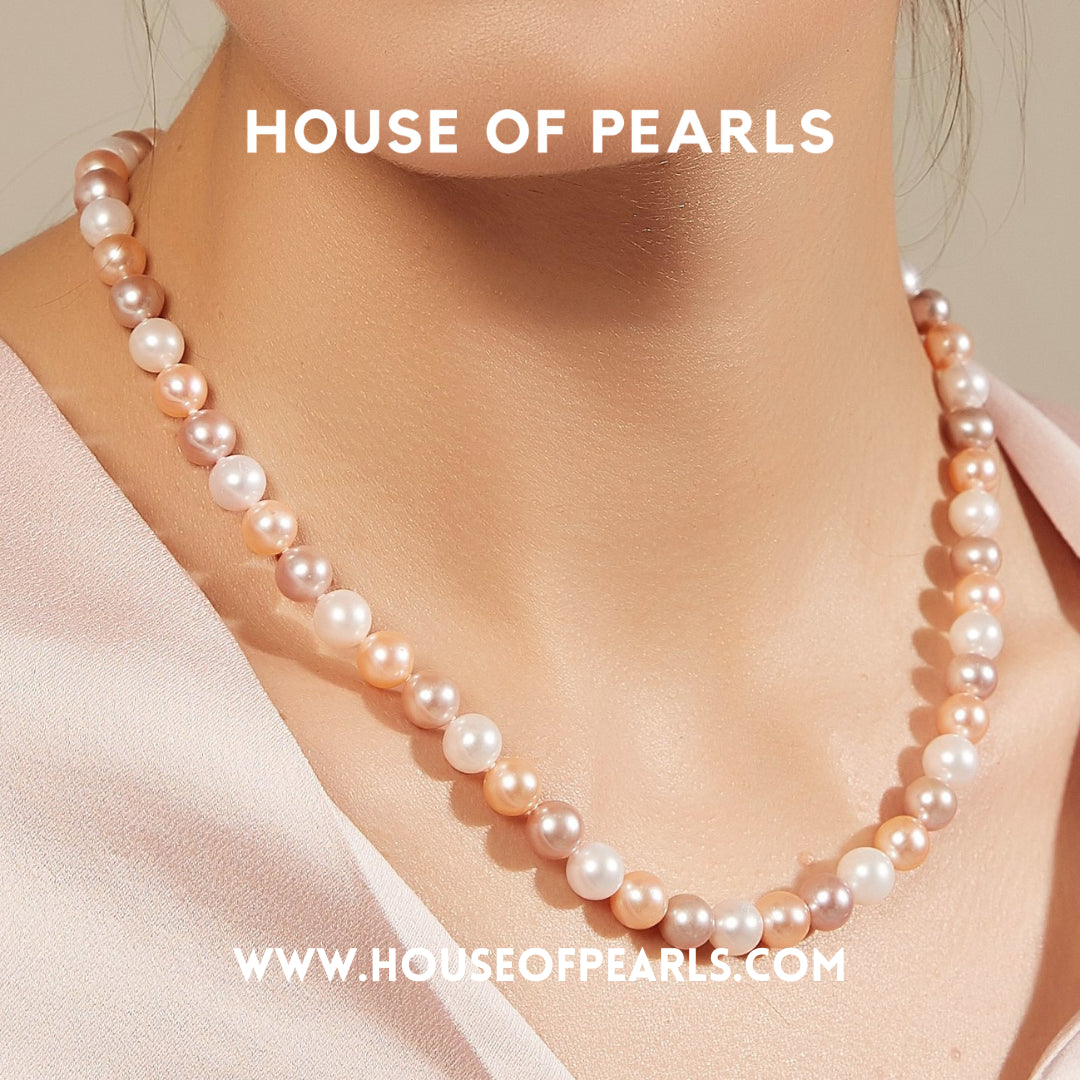 Are you shopping for the perfect Mother's Day gift for your own mom, or for any mom in your life? Whether you're looking for something classic, timeless, and elegant—something that will make her feel special every time she wears it—then why not consider pearl jewelry?
At House of Pearls, we believe that pearls are one of the best gifts to show Mom how much you appreciate her. Not only is pearl jewelry classic, timeless, and elegant—it is also incredibly unique and meaningful. Pearls are the oldest known gemstone in the world and represent wisdom, purity, honor, perfection, and eternity. And when presented as a gift to Mom on Mother's Day—well there just aren't many better ways to express your love.
We make it easy to find exactly what you need with our exclusive collection of fine pearl jewelry—the perfect way to say "I love you Mom!"
Why Choose Pearls for Mother's Day?
Pearls have long been a classic mother's day gift that speaks to classic style and timeless beauty. Not only are pearls exceptionally versatile, they are also great for any occasion. Whether you're looking for a classic strand of pearl necklaces to treat a special mom in your life, or an iconic statement piece like a pearl ring, you can't go wrong with this timeless gemstone.
Furthermore, pearls are an investment as they retain their value over time and can be truly appreciated by many generations of moms. They can be passed down or reworked into modern pieces such as earrings, pendants and bangles that suit today's women's style.
Moreover, each pearl is unique and comes with its own natural charm that reflects the personality of the wearer. It symbolizes love, purity and harmony when worn making it the perfect way to show your appreciation for mom this Mother's Day!
What Are the Different Types of Pearls?
Pearls come in a variety of sizes, shapes, and colors. And all of these options make it easy for you to find the perfect pearl jewelry for mom.
The most common type of pearl is the round one, which is created when an irritant is lodged in an oyster's mantle tissue and the oyster responds to the intruding particle by encasing it with layers of nacre. It takes 2-4 years for the pearl to form and reach its full size.
Another popular option is baroque pearls, which are irregularly shaped. They're usually larger than round pearls and are known for their unique, organic designs that can look like a work of abstract art.
Keshi pearls are another beautiful choice; they're small but very lustrous and often found together in a strand. These pearls are very light in weight, making them a comfortable choice to wear on any occasion!
Finally, freshwater pearls are smaller than saltwater but still offer great shine and luster. They're ideal for those on a budget—and they look just as stylish as the more expensive options!
Make the Moment Memorable With These Unique Mother's Day Gifts
Beautiful pearl jewelry is a meaningful and timeless gift. Whether your mom prefers classic or contemporary, the gorgeous iridescence of pearls is sure to make her smile. Here are some unique pearl jewelry pieces that will make mom proud:
1. Multi-Strand Necklaces: Give mom the gift of layers with our multi-strand necklaces. With three or more strands of exquisite freshwater pearls interwoven into a luxurious style, this eye-catching piece will become your mom's go-to accessory.
2. Colored Pearl Jewelry: For a truly one-of-a-kind gift, consider colored pearls for your Mother's Day present. Whether she loves the warmth of golden South Sea pearls, or prefers to brighten her wardrobe with pink and lavender Akoya gems – there's no doubt she'll be pleased!
3. Matching Pearl Sets: Enhance any special occasion for your mom when you treat her to a matching set of earrings and necklace with our ready-made designs – perfect for everything from church services to special dinners and family gatherings.
Choosing from House of Pearls' extensive collection gives you access to ethically sourced, high quality pearls that represent timeless beauty and unparalleled elegance – perfect to show your mother how much you appreciate her on Mother's Day!
How to Care for Your Pearl Jewelry
Pearls are among the most delicate and valuable jewelry pieces you can own, making it essential to properly care for them to ensure their longevity. To ensure your pearls stay in beautiful condition for a long time, here are a few helpful tips for preservation and cleaning:
1. **Proper Storage**: Make sure to store your pearls away from other jewelry items that could scratch or damage the pearl's delicate surface. Also, keep them away from extreme temperatures and direct sunlight, as this can cause discoloration over time.
2. **Avoid Perfumes**: Perfumes and cosmetics can cause a reaction with the pearls' nacre coating, which is why you should make sure your pearls don't come into contact with any products containing alcohol.
3. **Clean Your Jewelry Regularly**: A simple and safe way to clean your pearls is to use a soft cloth with warm soapy water. Gently wipe down the piece until it is clean, then rinse it off and lay it on a flat surface to dry.
By following these easy steps, you can give Mom an incredible pearl jewelry gift that she will be proud of—and that she'll always be able to cherish for many years to come!
Why Buy the Finest Pearl Jewelry From House of Pearls?
Pearls make a timeless statement when gifted on Mother's Day and House of Pearl's offer the highest quality of pearl jewelry in the industry.
From white South Sea pearls to golden South Sea pearls, House of Pearls' extensive collection ensures you can find exactly what you're looking for. Each piece is handcrafted with care and attention to detail, leaving your mom with the perfect keepsake to remember how much you appreciate her.
Here are just some of the reasons why you should shop at House of Pearls for your Mother's Day gift:
- All pearls are directly sourced from Mother Nature and have not been artificially treated in any way, so your mom can be sure she is receiving only the finest quality pearls.
- Each pearl is strung with a knotted hand-knotted silk threading process and secured with gold or sterling silver clasps so they won't come undone.
- A Certificate of Authenticity detailing the pearl's origin and type is included with each purchase providing added peace of mind that your gift was truly worth it.
- We provide an unlimited 60-day money back guarantee in case you need to return or exchange any purchase for any reason, making this a risk free purchase for your mom's special day.
FAQs About Mother's Day Gifts and Fine Pearl Jewelry
When it comes to gifting, pearls are always a timeless and special choice for Mom. But there are many questions that come up when selecting the perfect pearl jewelry for her.
At House of Pearls, we like to make sure you're informed about the pearl products we offer—so here are some of the most frequently asked questions about Mother's Day gifts and fine pearl jewelry:
### What Are the Best Pearl Jewelry Gifts for Mom?
Pearl necklaces and earrings remain popular Mother's Day gifts because of their stunning beauty and classic look. Regardless of her style, you can make sure she looks her best with adding a timeless pearl touch to her wardrobe.
### Where Does House Of Pearls Get It's Pearls From?
House Of Pearls partners with pearl farmers in every corner of the globe. We have direct access to these sources—which allows us to provide you with the highest quality pearls while still keeping our prices competitive.
### How Can I Select Quality Pearl Jewelry?
When it comes to quality, there are three main factors: size, luster, and; surface marks & blemishes. The larger a pearl is the more expensive it will be, but size isn't necessarily an indicator of quality - luster is! Make sure you check out our guide on selecting quality pearls for more information on this topic.
Conclusion
Show your mom how much you appreciate her this Mother's Day by choosing a unique gift that will make her proud. At House of Pearls, you can find the perfect piece of pearl jewelry that will stand the test of time and remind her of her special day for years to come.
She will cherish the love and thoughtfulness in every piece of jewelry we have to offer. From earrings, to necklaces and bracelet sets, you'll find a piece that she'll love wearing again and again. Give a pearl jewelry gift that she'll never forget and you'll be sure to make her day extra special.