The Perfect Bridesmaid Earrings for Every Wedding, Budget and Style
Posted by KIM CHUA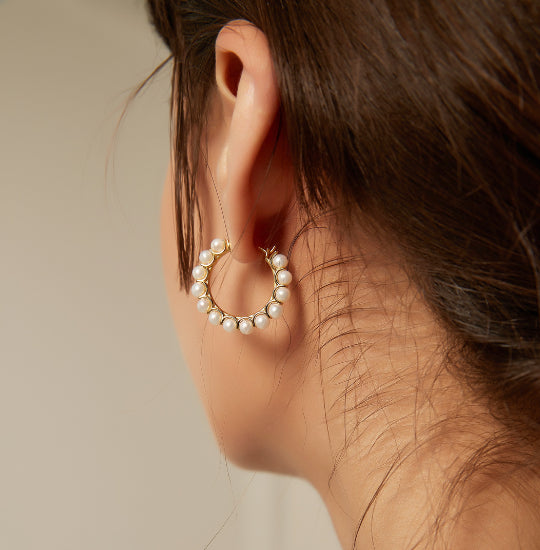 Are you searching for the perfect bridesmaid earrings for your upcoming wedding? Look no further! We've got the perfect accessory for every bridal party, budget, and style.
At House of Pearls, we know that your bridesmaids are special and deserve something unique. That's why we work directly with Mother Nature to bring you the highest quality pearls available. Our selection of earrings includes freshwater and saltwater pearls in a variety colors and sizes, so you can find something special for each member of your bridal party.
From chic drop earrings to classic studs, we've got the perfect pair of bridesmaid earrings to suit every budget, taste, and personality. No matter what style you choose, with us, you can rest assured that each pair of earrings is made from only the finest materials—so your bridesmaids will be able to rock their stunning pieces for years to come!
The Different Types of Bridesmaid Earrings
From pearls to diamonds and everything in between, there is no shortage of bridesmaid earrings that can make your special day even more memorable.
The options are endless, but here are some of the most popular types of earrings for bridesmaids:
- **Pearl earrings**: For a timeless, classic look, consider pearl earrings. They can be simple and understated or more ornate to make a statement.
- **Diamond earrings**: For a touch of sparkle, diamond earrings will definitely do the trick! Choose from bold and daring drop styles to more subtle studs for something that you and your bridesmaid squad will love.
- **Beaded earrings**: Beaded earrings come in a variety of colors and styles so you're sure to find something that works with your wedding vision. They can be long, short, or anything in between!
- **Statement earrings**: If you want your bridesmaids to stand out with some serious style, then statement earrings are the way to go. From sparkling rhinestones to intricate designs, these pieces will make sure your bridesmaids look fantastic on your special day!
Different Bridesmaid Earrings for Every Wedding Theme
No matter the wedding theme, there are bridesmaid earrings to match. After all, the right earrings can really elevate a look. Need something subtle and traditional? Go with classic studs that sparkle, like diamond or pearl.
For a more modern, eye-catching look, there are endless possibilities:
* Longer tassel drops for that boho touch
* Cubic zirconia or Swarovski stones for glitz and glam
* Semi-precious gemstones for a unique twist
* Iridescent and rainbow-colored earrings for a touch of fun.
The great thing about bridesmaid earrings is that they don't have to be expensive—you can find them in any budget range! Look for inexpensive metals like copper or brass, and search online sites to find factory closeouts and markdowns on higher quality metals.
No matter the style or budget, you're sure to find perfect bridesmaid earrings that will coordinate with any wedding theme.
Finding Bridesmaid Earrings to Fit Every Budget
When it comes to finding the perfect bridesmaid earrings for your wedding, budget can be a major factor. But don't worry, as House of Pearls has options to fit every budget!
### Freshwater Pearls
For an affordable option that won't break the bank, freshwater pearls are your best choice. These pearls come in all different shapes, sizes and colors—from creamy ivory pearls to light pink and even dark black pearls. They are also very durable and look just as beautiful as their more expensive counterparts.
### Akoya Pearls
Akoya pearls are a medium-priced option that offer a bit more luster than freshwater pearls. These exquisite beauties range in colors from white to cream and even "overtone" colors such as silver, rose or champagne. To get the most bang for your buck, opt for Akoya pearl earrings with simple sterling silver settings so that the focus stays on the pearls themselves.
### South Sea Pearls
For those who want to make a bigger statement, South Sea pearl earrings are a great choice! They are known for their larger size and beautiful colors and will make your bridesmaid's ears pop with style and elegance. However, due to their high quality and rarity, they can be quite pricey—so make sure you have enough in your budget to buy them!
How to Choose the Right Materials for Bridesmaid Earrings
Choosing the right material for your bridesmaid earrings is an important step to take when crafting the perfect look for your wedding day. From fancy freshwater pearls to polished brass, House of Pearls provides a variety of materials that can make any bridesmaid's earrings stand out. So how do you decide which material will best fit your wedding's theme and budget?
Here are a few tips to help you choose the right materials for bridesmaid earrings:
- **Freshwater Pearls** - Freshwater pearls are an elegant addition to any bridal party and can add an air of sophistication without breaking the bank.
- **Gold-plated** - Gold-plated earrings exude luxury and make a bold statement without being too flashy. This is an excellent option if you want something a little more glamorous, but still within budget.
- **Silver** - For a contemporary or modern feel, silver is the perfect choice. It's an affordable option that can give bridal party looks just the right amount of pizzazz.
- **Brass** - Brass is another great option for bridesmaid earrings as it offers a classic look that will be timeless and won't overpower the rest of the outfit.
How to Incorporate Personal Style With Bridesmaid Earrings
When it comes to accessorizing for a wedding, there's no easy way to ensure that each bridesmaid looks their best while still coordinating with the rest of the wedding party. But, by taking personal style into account, you can easily find the perfect bridesmaid earrings that everyone will love!
It's important to think about each bridesmaid's individual style when selecting earrings. Do they prefer classic and timeless pieces? Are they more adventurous and prefer bolder, more eye-catching designs?
House of Pearls has a range of earrings styles and colors that fit seamlessly with every type of wedding—from traditional white pearls to blush pink Swarovski crystals and intricate beading. Whether you are looking for simple classic jewelry pieces or something more glamorous, House of Pearls has it all!
You can also choose earrings that coordinate with the overall theme of your wedding. Consider adding a bit of sparkle with shimmering freshwater cultured pearls or add a touch of romantic charm with flower-shaped Swarovski pearl drops. No matter what style you choose, our handcrafted pieces will make sure your bridesmaids look picture perfect on your special day!
Picking the Perfect Matching Bridesmaid Gift Sets
Finding just the right bridesmaid earrings can be a challenge, but House of Pearls has something perfect for every wedding, budget and style! With our collection of matching gift sets, you'll find exactly what you're looking for - and an even bigger surprise when you see the price.
Our bridesmaid earring sets offer classic elegance at affordable prices:
- Our Luminee Pearl Earrings are perfect for weddings with an elegant feel and come in a variety of shapes and sizes featuring freshwater pearls.
- Pearl Earrings like our Sequined Jardin set are ideal for a more modern look, featuring rose gold disk studs with pearl drops.
- Or if you want something less traditional, our Boho Tribal earrings give off a Rustic vibe with their Southwestern-style charm.
No matter what your style is, you'll find the perfect pair of bridesmaid earrings that will have your girls smiling! And when paired with any of our complimentary jewelry pieces it makes the perfect bridesmaid gift set that will look stunning in photos.
Conclusion
No matter your wedding style or budget, there is a pair of House of Pearls earrings that will be perfect for your bridesmaids. We believe that pearls are classic, timeless and always fashionable no matter what the occasion is.
Our team of experts is here to help you find the perfect pair of earrings for your bridesmaids and provide you with the best customer service possible. We know that a perfect bridesmaid gift can make a wedding even more special and memorable, and that is why we are here to provide you with the highest quality pearls to make that moment special. Thank you for choosing House of Pearls!